About
Group project over 2 months for
Tork
.
Redesigning Tork's product offer according to a re-positioned brand identity, with the goal of fulfilling a set of UN's sustainable development goals.
Process
Tork is one of the world's leading professional hygiene suppliers, but in order to maintain a competitive advantage, they asked us to take a look at their brand identity from a circular perspective: How can we sharpen Tork's brand identity towards more circular products and services of the future?
Tork's current brand identity was analyzed and positioned with the Brand Archetype wheel, with Tork found to be mostly focusing on their expertise and unobtrusiveness characteristics. Through a competitor analysis and the building of a brand platform, a strategy for Tork's repositioning was created, summarized by their new brand promise: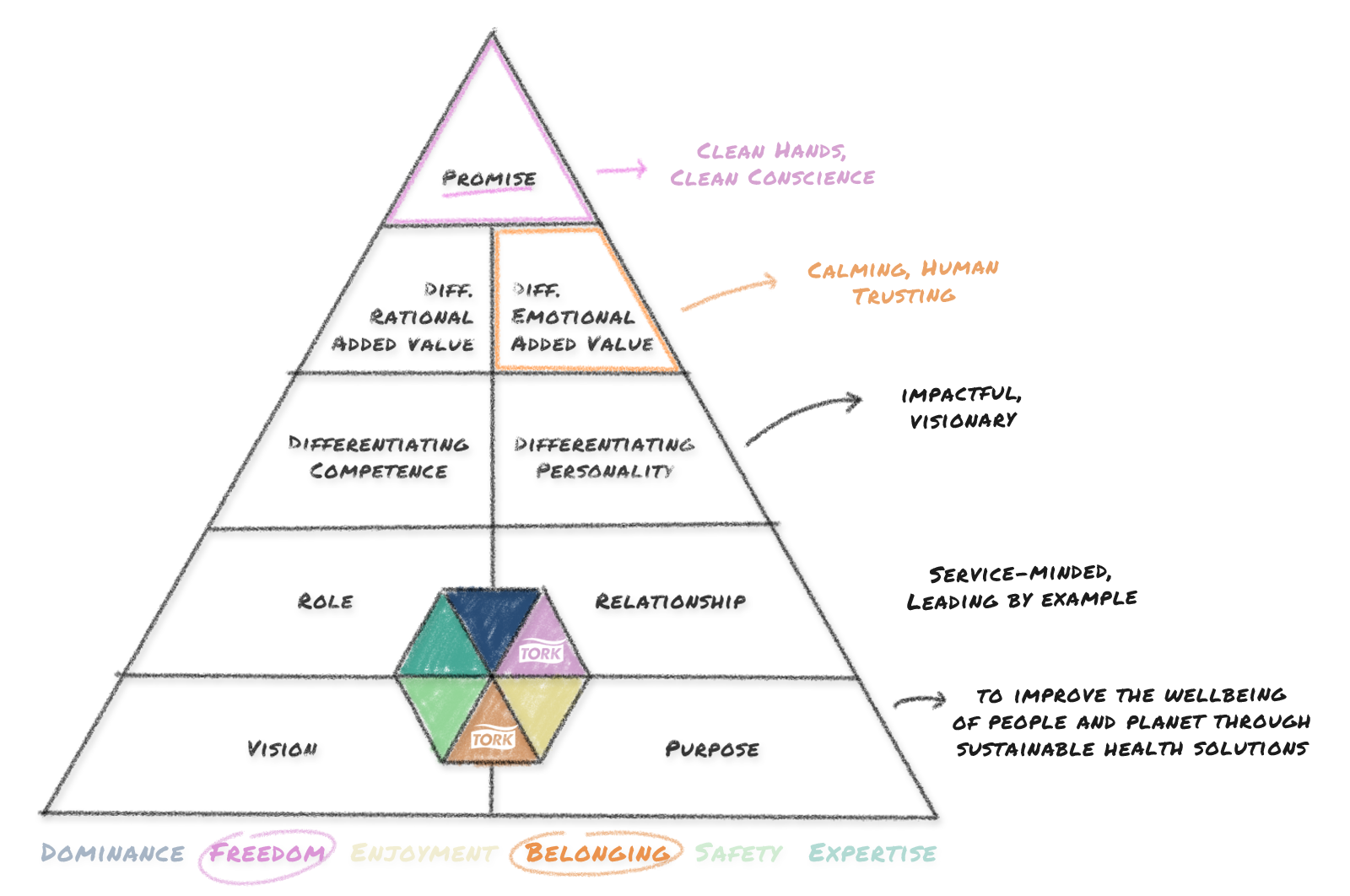 After establishing the new brand platform, a customer journey of offline and online touchpoints was mapped. With help of Doblin's 10 Ten Types of Innovation interesting opportunities were identified. 

Aside from the customer journey, a user journey of a typical bathroom visit was mapped, highlighting delightful moments and possible problematic moments. In addition an estimation was made of the environmental footprint identifying moments that may be more impactful to focus on. 
At this point we came back to the original question: How can we sharpen Tork's brand identity towards more circular products and services of the future? We found that instead of tackling a single problem, the whole user journey should be the focus. 
In order to create the biggest impact, awareness of Tork's ecosystem was the essential thing to create. Tork already has a large user base, but would have to move away from its unobtrusiveness and purely service-minded attitude. 
With this new goal, the idea of the Tork Brand Store was conceived, which creates a whole new customer and user touchpoint.
Results
The Tork Brand Store is a near-futuristic bathroom concept that embodies Tork's circular brand experience. The interior connects to the heritage of Tork and makes the visitors feel like they are part of the natural cycle. The goal is to make the users more aware of being circular, which can be enhanced by creating small interactions that focus on parts of the cycle. Interactions should induce behavioral change and create awareness on the environmental impact of the bathroom.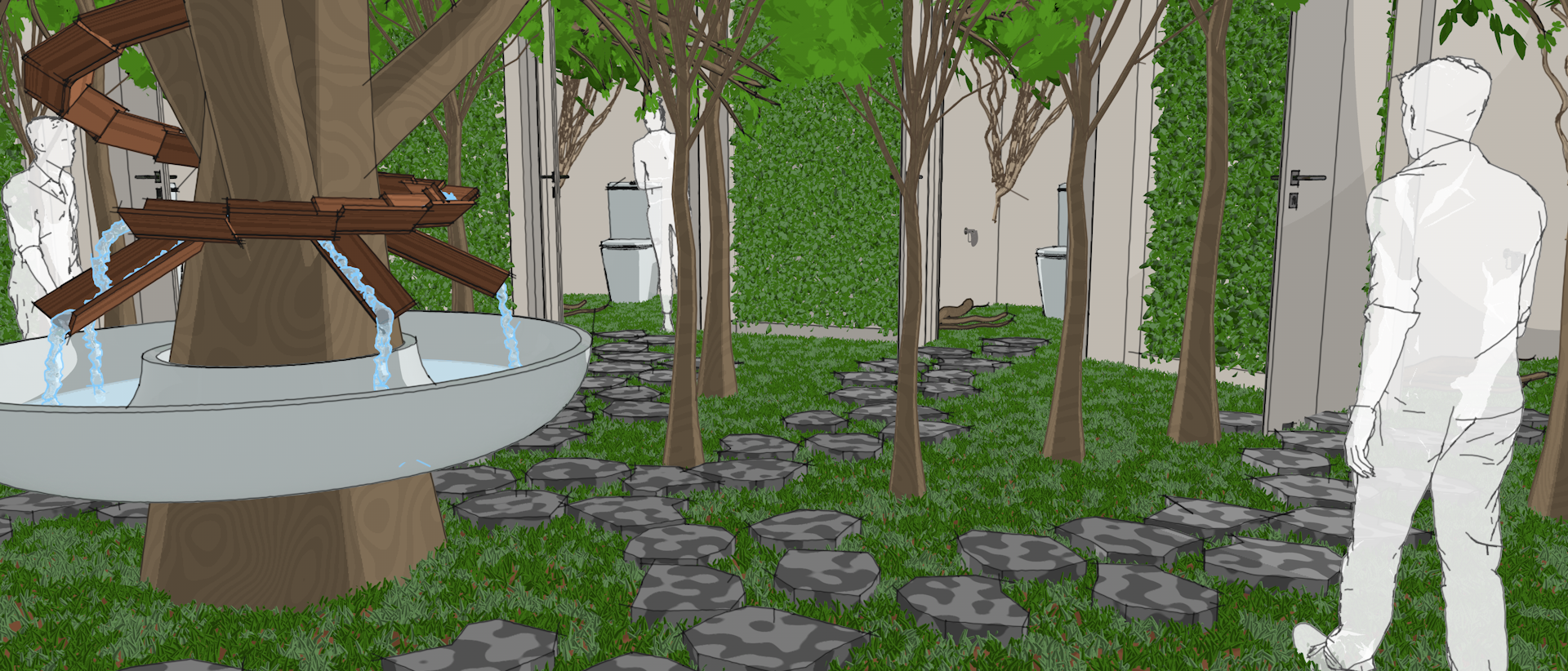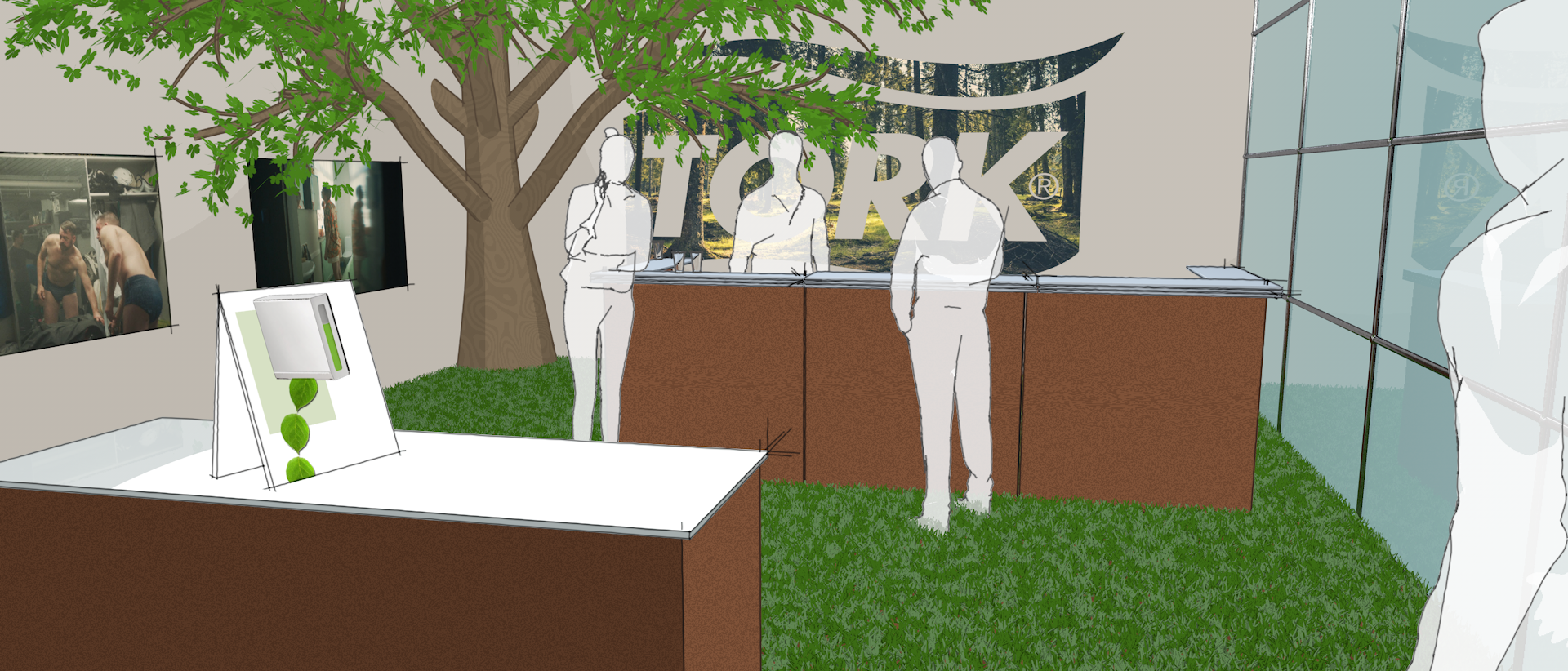 Besides the restrooms, the brand store can benefit from an adjacent reception area to create more engagement with Tork's employees and get more information about Tork´s work in the field of circularity and their product solutions.
The concept was presented to Tork, including the global brand manager and global brand innovation manager. The project was very well received:
With this project we've been able to deliver a concept to Tork that shows them to think outside their comfort zone and think differently to make positive change.